Frontpoint offers a tailored security solution designed to protect your small business from future threats, while keeping your employees safe and accountable.
Perfect for small businesses like stores, salons, or restaurants, Frontpoint systems are an ideal choice due to their customizable nature, easy-to-use app, integrated automation, and advanced camera technology.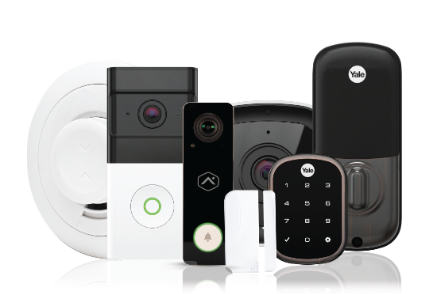 In this article we'll dive deeper into the the key features that Frontpoint provides to help your business remain safe, secure, and productive around the clock.

Let's dive in!
Advanced cameras with best-in-class features to level up your security game.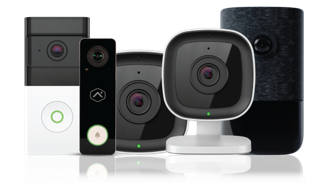 Frontpoint cameras record video based on events of interest and are equipped with Two-Way Audio to speak with guests and employees. You can watch live and saved video straight from the app or website, and even share videos when pertinent. A few other favorite capabilities for small businesses include:
Set up advanced notifications powered by Video Analytics:
Configure Continuous Recording so you never miss a minute:
With a supported micro-SD card (bought separately), you can view 24/7 video footage from up to 58 days in the past- straight from the app. While automatically recorded video clips show you events, continuous recordings tell a more complete story- showing what led up to the events and what followed.

Want to see what happened prior to a break-in? You can play detective and re-watch the footage.
To learn about all of the capabilities available with Frontpoint cameras, click "Camera Capabilities" at the bottom of this page.
Feature-rich Frontpoint app allows you to check in and control your system from anywhere.

Among the many useful features of the Frontpoint app, small business owners love these abilities:
Review Sensor and System History:
Review various events that happened within 90 days including the open/close history of sensors, motion detection, captured video clips, and other insights into your system usage.
Create custom user codes for specific employees:
Unique user codes distinguish who disarmed your system and when, giving you visibility into when your employee arrived and opened shop. Easily delete codes as needed.

Set notifications for Unexpected Activity Alerts so if the shop doesn't open as per usual one day, you'll be notified.
Link additional Frontpoint systems and grow together:
Other favorite app features include:
Automatic system arming, advanced custom notifications, and daily in-app summaries (known as Highlights).
To learn how to utilize all features available in the Frontpoint app, click "App Features" at the bottom of this page.
Industry-leading Alarm Response Time
Find out the step-by-step processes we use to keep your business safe in an emergency and what to expect if an alarm is triggered. Click "Alarm Response" at the bottom of this page to learn what happens when your alarm goes off.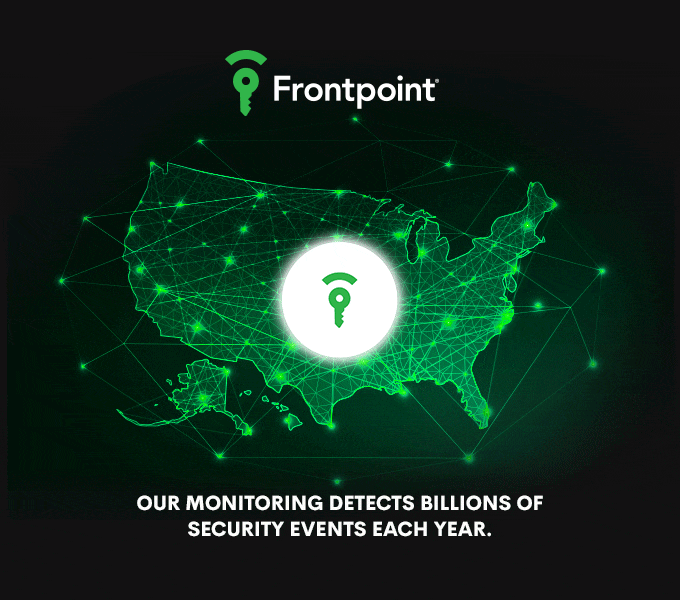 Build a customized system to protect your small business:
All Frontpoint systems are customizable, but we recommend a combination of products similar to what's shown above.
The Hub and Keypad serve as the brains of your system, with the cameras as its eyes.

Although the recommended cameras are named "Outdoor" cameras- don't let that fool you; they are powerful when installed indoors on your walls and come equipped with best-in-class features.

Protect large areas using the Frontpoint Glass Break Sensor, which will trigger an alarm when a window or glass door is broken.

With a Smart Door Lock, you can assign custom codes for further tracking on when each employee came and left for their shift, delete codes as needed, and keep utmost control of who's entering your properly.

Lastly, you'll want to keep employees safe with a Keychain Remote in reach, since it functions as a panic button to notify police of an emergency. Consider a Keychain Remote for each employee, or keeping one under each register.
Is Frontpoint right for you?
Frontpoint is a DIY security system that makes security easy for small business owners. This means that installation (although easy and simplified over the last decade) must be done by the business owner, manager, or employee.
If there are ever issues that arise, troubleshooting also must be done by owners or managers on-site. Although we're thrilled to assist over the phone, Frontpoint cannot deploy technicians to assist, and we cannot help troubleshoot if the person calling doesn't have account information to verify their identity.
If this still sounds workable for your business, and you're excited about the features mentioned above, give us a call to discuss! Still not sure? Give us a call anyway, and we'll let you know if your business will be a good fit.
With a feature-rich app, DIY-friendly security sensors, smart automation, and comprehensive video monitoring this system provides a complete security net that ensures your business remains safe, secure, and productive around the clock.


Click "Build Your Own" at the bottom of this page to create your own custom system.
OR
Call 833-606-4477 to craft a system with a Frontpoint product specialist.